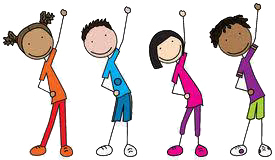 Staying Active at Home
We at Ideas for Cooking and Nutrition (ICAN) hope that you are all healthy and safe during this challenging time.
It will be easy to become bored and end up spending way too much time in front of a screen. However, kids and adults in your home should try to be active for at least 30 minutes each day- more is better!
Here are some ways you can stay active with your family while maintaining social distance: Parents and guardians will need to use their discretion for activities outside the home setting.
Vacuum and mop floors in your home
Kick a soccer ball around the yard
Sweep the driveway or patio
Dance to your favorite music
Ride a bike around your neighborhood
Do you have a hula hoop or jumprope? Use it!
Go jogging or take the family pet for a walk
You can also try doing a guided activity every day of the week with your family:
Parent Tip: Use these exercises as "brain breaks" between lessons or school make-up work!
Monday: Jumping Jax Gym (10 min)
Tuesday: Kids HIIT Workout 2 (32 min)
Wednesday: Kids Dance and Fitness (20 min)
Thursday: DANCE DAY!
Friday: Family Walk a Mile (17 min)